Strengthening family ties at HMP Highdown
---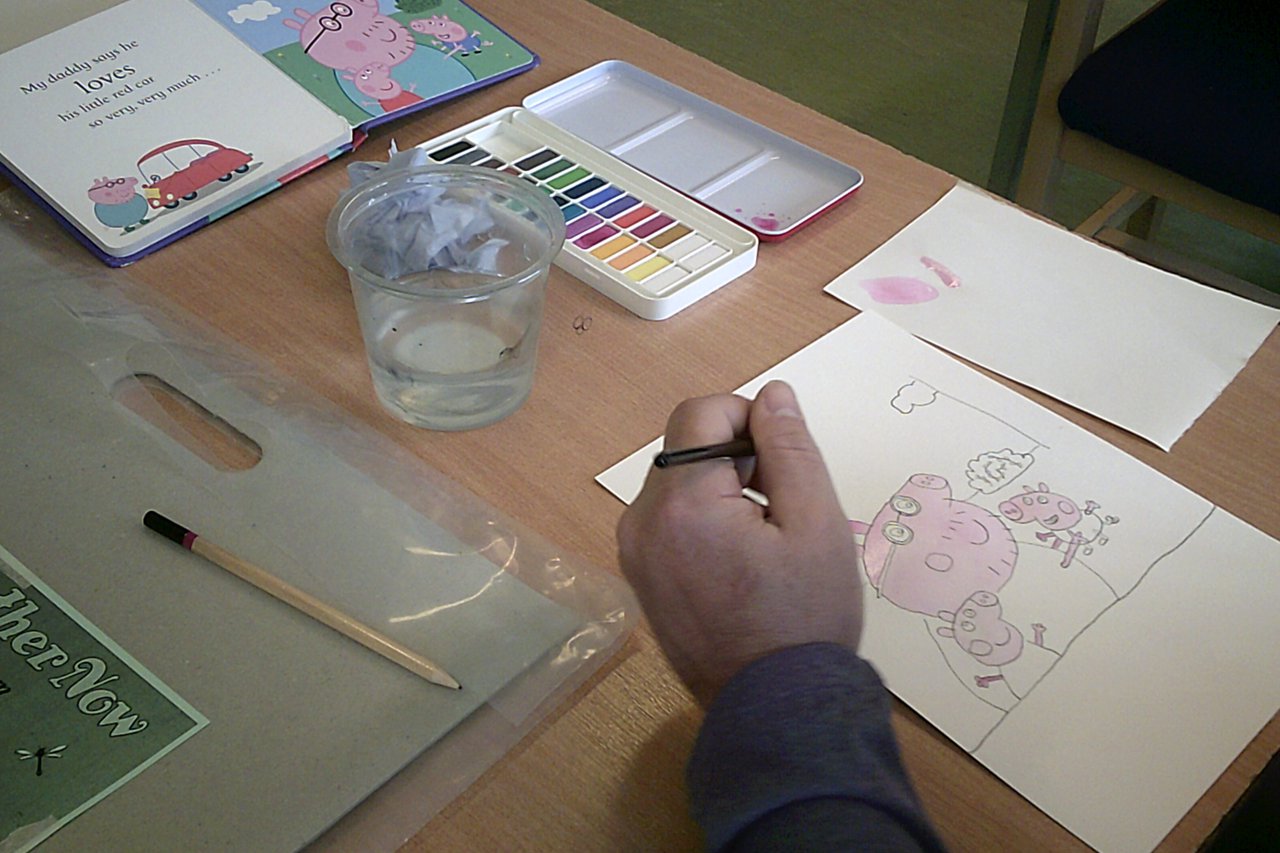 Storybook Dads is a well-known initiative where learners in prison can record stories on CDs or DVDs to send to their children. The scheme helps learners to engage with their children which can bring comfort to them as the child(ren) can hear their parent whenever they need to, as well as helping them develop an interest in books and reading.
HMP Highdown who run the initiative in their prison, have been using their art provision as a further hook to support family ties as well as encouraging people to access Storybook Dads.
Incorporating art into the Storybook Dads initiative at HMP Highdown
At HMP Highdown the library run the Storybook Dads programme and in conjunction Novus run art classes which align with the programme. Through this collaboration learners are given the opportunity to create artwork to accompany their pre-recorded story. 
Once the learner has recorded his story in the library, he will then be invited to an art session where he will have the opportunity to create a drawing or painting based on the characters and story in the book. This is then sent off to the family with the recording of the book.
The aim of incorporating art into the initiative is to further engage learners in the creative process and further strengthen the connection and bond between the learner and their child(ren).
In addition, the art class, which is run by Charlotte Gregory, the art tutor at HMP Highdown have been creating murals for the initiative. The murals, which have been created on large canvases will be used as a backdrop in the area where the recordings take place.
Currently they only have the facilities for recording audio but are planning on progressing to a video recorder where visual backdrops will be required. The canvases were worked on by learners both individually and in groups. 
Why family ties are important
Research indicates that learners who maintain close ties with their families while in prison are less likely to reoffend on release. At Novus we strive to give learners the best chance of success upon release, and we work hard to embed a family-forward approach to education in our provision. By doing so, learners are able to maintain healthy relationships with their family as well as being better positioned in their rehabilitation journey.
Government figures suggest that more than 100,000 children have a parent in prison. Whilst many children with a parent in prison go on to lead fulfilling positive lives, research indicates that children of prisoners are more likely to get involved in crime, suffer from mental health problems, homelessness, and poverty. Learners being able to maintain a healthy and positive relationship with their child(ren) whilst in prison ensures their presence in their lives and helps to reduce the risk of their child(ren) offending later in life. 
Encouraging learners into reading
Many learners engage in the Storybook Dads initiative to engage with their children and strengthen family ties. However, we often find as a by-product, that those who engage in the programme can also improve their own reading. 
In some instances, learners striving to be part of this programme for the benefit of their loved ones are encouraged to address their own challenges in reading. By incorporating the art provision into the initiative, it gives learners the opportunity to engage with reading and respond creatively which in turn could have a similar and positive impact on their children.
In the UK, 57% of prisoners read below the level expected of an 11-year-old. Being able to reduce reoffending is nearly impossible without raising literacy rates and ensuring that learners are fit for employment upon release. Projects like this all contribute to our reading strategy which we strive to expand to ensure that we are providing learners with the best opportunities. 
The joint venture at HMP Highdown has been a huge success amongst learners who have been able to improve family ties and reap the benefits of reading in a creative way. To read more from our other establishments on how they are embedding reading into their programmes and initiatives, visit our news section.