Novus colleagues commemorate the First World War on two wheels
---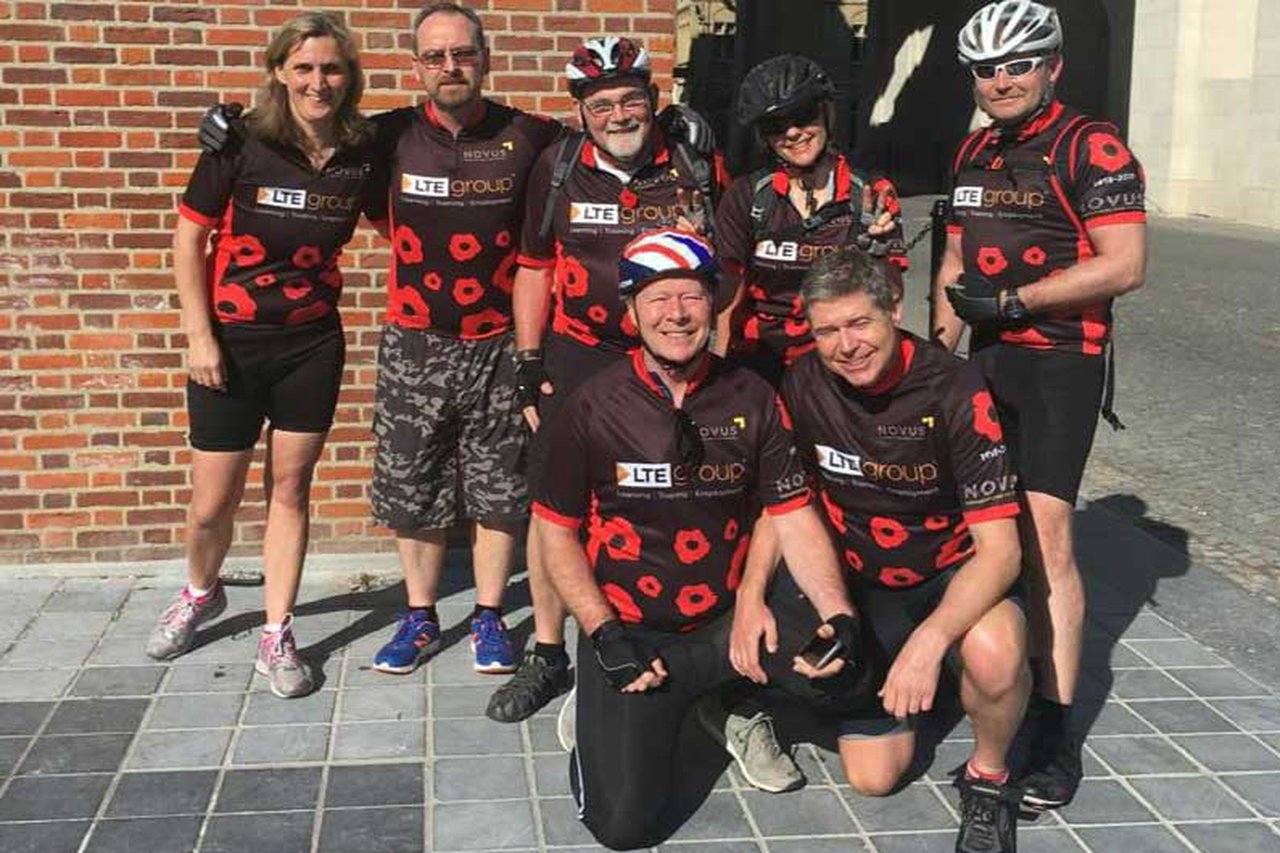 A team of nine cyclists from Novus recently completed a three day cycle tour of the battlefields and memorials in Belgium as part of the First World War Centenary celebrations.
On arrival, the team based themselves in Ypres and rode out to the Menin Gate to test their bikes and have a last minute route check, before heading back for a good night's rest.
They set off the next morning through the Menin Gate and onto Hill 60, one of the most feared places on the front line. During the Battle of Messines, British tunnellers detonated 53,000 lbs of explosives under the German lines, resulting in a crater that can still be seen today. Nearby, an impressive art installation 'ComingWorldRememberMe' with 600,000 small statues commemorates the 600,000 victims of the First World War in Belgium.
After taking in the battlefield and memorials, the team headed back to the Menin Gate for the Last Post Ceremony where they had been added to the participants list to lay wreaths. The team laid three wreaths on behalf of Novus and LTE Group, HMP Holme House and the Royal Antidiluvian Order of Buffaloes (RAOB), which they found to be a very moving and humbling experience.
The next morning they headed towards Tyne Cot Cemetery, taking in Polygon Wood, Zonnebeke and the Passendale Museum on route. The scale of the cemetery was breath-taking and the team spent a considerable amount of time paying their respects to the fallen.
Tyne Cot Cemetery is the world's largest Commonwealth war grave cemetery and the final resting place of 11,954 unidentified soldiers. Over 70 per cent of the graves belong to unidentified British or Commonwealth soldiers and bear the words 'A Soldier of the Great War, Known unto God'.
On their final day, the team explored the area surrounding Ypres which included the Salient battlefield and In Flounders Field Museum.
Reflecting on their tour, team leader Dave Henderson said, "We would like to thank everyone for their support and encouragement for the team on this challenge. We would particularly like to thank our Novus Regional Office and LTE Group colleagues for their sponsorship and believing in us."
"The most memorable thing was seeing how the war cemeteries are being maintained by the Commonwealth and Graves Commission. The scale of death during the conflict and number of unmarked graves we saw is something we will never forget."
The team are still collecting their sponsorship money and have raised £3,803 to date. They plan to share the funds equally between Northumbria Blood Bikes, the Royal British Legion and the charity funds of the RAOB.