Novus Roundtable – Making Prison Education Work for Wales
---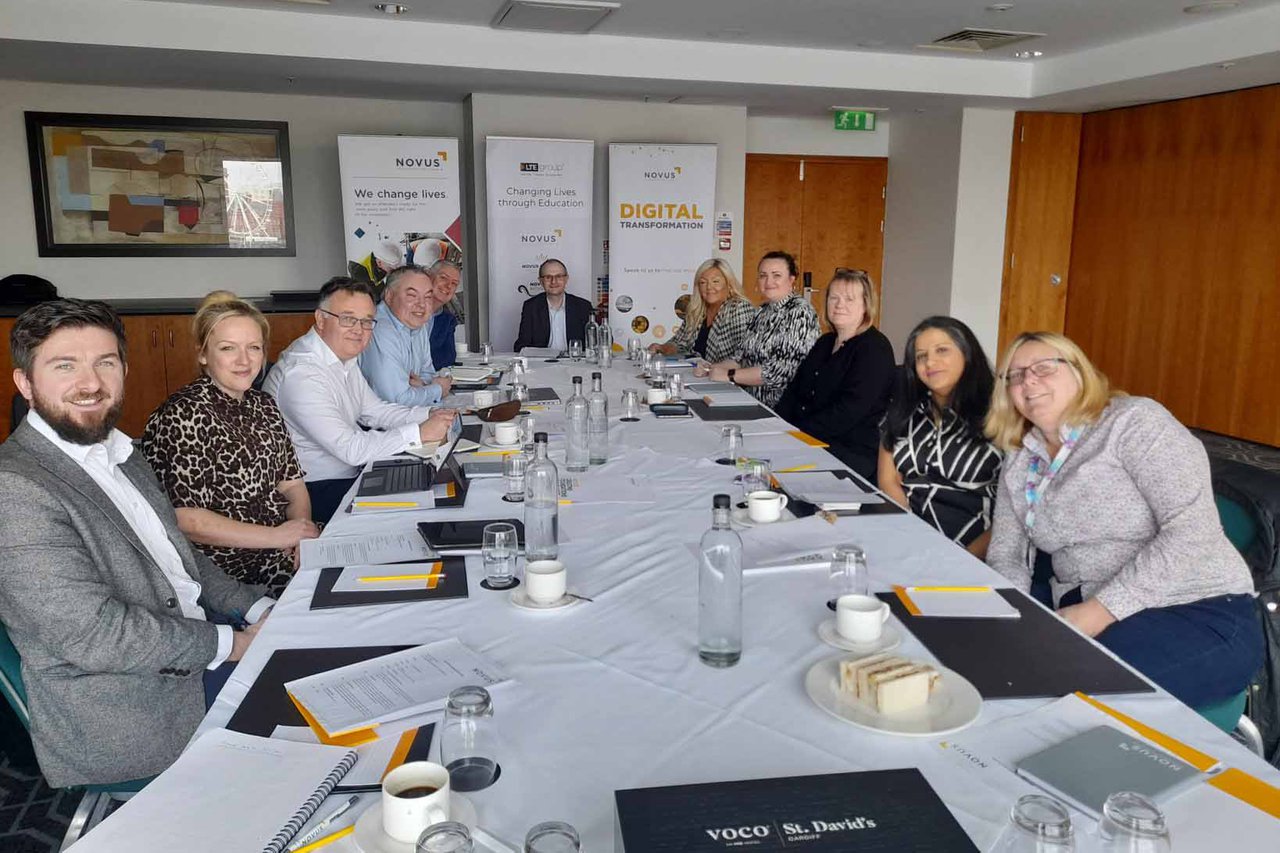 How can prison education work better for Wales? This was the subject under discussion at a policy roundtable held by Novus and the LTE Group in Cardiff recently, outlining the ambition for prison education to play a defining role in making Wales a "second-chance nation" through supporting rehabilitation, reducing reoffending and improving the lives of communities across Wales.
Novus MD Peter Cox and LTE Group CEO John Thornhill were joined by colleagues from Novus and Novus Cambria, along with Sian Hibbs and Gemma McDowell from HMPPS Wales, Joshua Miles from the Learning and Work Institute, and David Hagendyk and Rachel Cable from ColegauCymru.
It was agreed that the organisations present shared the aim of ensuring best value for Wales by enabling joined-up, collaborative working across the prison, education and employment sectors. 
Participants acknowledged that Covid had changed the challenges for prisoners and prison leavers, but outlined that the post-pandemic jobs market and recruitment challenges across many sectors had let to more employers being increasingly open to the prospect of recruiting prison leavers.
Focusing on the individual learner in a secure environment
The discussion focused on the priority of keeping individuals safe, and ensuring that any proposals for prison education are aligned across the custodial estate and with the wider probation offer. Challenges such as the transfer of data across prisoners and providers result in many learners experiencing a stop-start education journey in custody. Difficulties can also be posed by cross-border transfers between English and Welsh prisons.
The Westminster government's Prisons Strategy white paper outlined ambitions to increase the number of prisoners progressing into employment upon release. At present over 20% of job outcomes are being sustained, and providers are on target to achieve the ambition of reaching 30% by April 2024. While this progress is encouraging, all parties agreed that the sector should be aiming higher.
Apprenticeships for prisoners 
While some prisoners in England are now eligible to start an apprenticeship before release, this is not the case in Wales. At present the focus is on preparing prisoners for apprenticeships on release and working with apprenticeship providers and employers to secure these opportunities.
These pathways require further development, the roundtable heard, with participants discussing the need to test different models to find out what approaches are the most effective. The Greene King Academy at HMP Thameside in London was put forward as an example of a successful pathway to apprenticeships and employment. Greene King have worked with HMPPS and Novus to a realistic training environment with industry-standard equipment, sending in staff in to support the teaching and formal qualifications on offer. As a result, a number of learners have progressed to jobs with Greene King after leaving the prison. At HMP Berwyn, Williams Homes have created a modular homes workshop in the prison allowing the prisoners to build real homes and acquiring skills that can be used on release. 
Digital access for learners in prisons
In-cell technology is currently available at HMP Berwyn. Participants discussed the need to look at expanding access to make sure that the opportunities for prisoners to learn are maximised, while working within security requirements. As the importance of digital skills in the workplace increases, training in this area is vital to make sure that prisoners are job ready upon release.
Improving outcomes for prison learners
A review of vocational qualifications is currently ongoing in Wales. Those in attendance at the roundtable discussed the need to ensure that prison education is part of the conversation alongside mainstream community provision, and highlights pilots which could test how custodial programmes can be more closely linked to further and higher education qualifications.
Thank you to everyone who attended. The conversations demonstrated a shared desire to improve the outcomes for prison learners and highlighted a number of areas for potential collaboration.
If you'd like to hear more about future events and get involved, please follow us on Twitter and LinkedIn.