Remembering World War 2 at HMP Kirklevington Grange and HMP Durham
---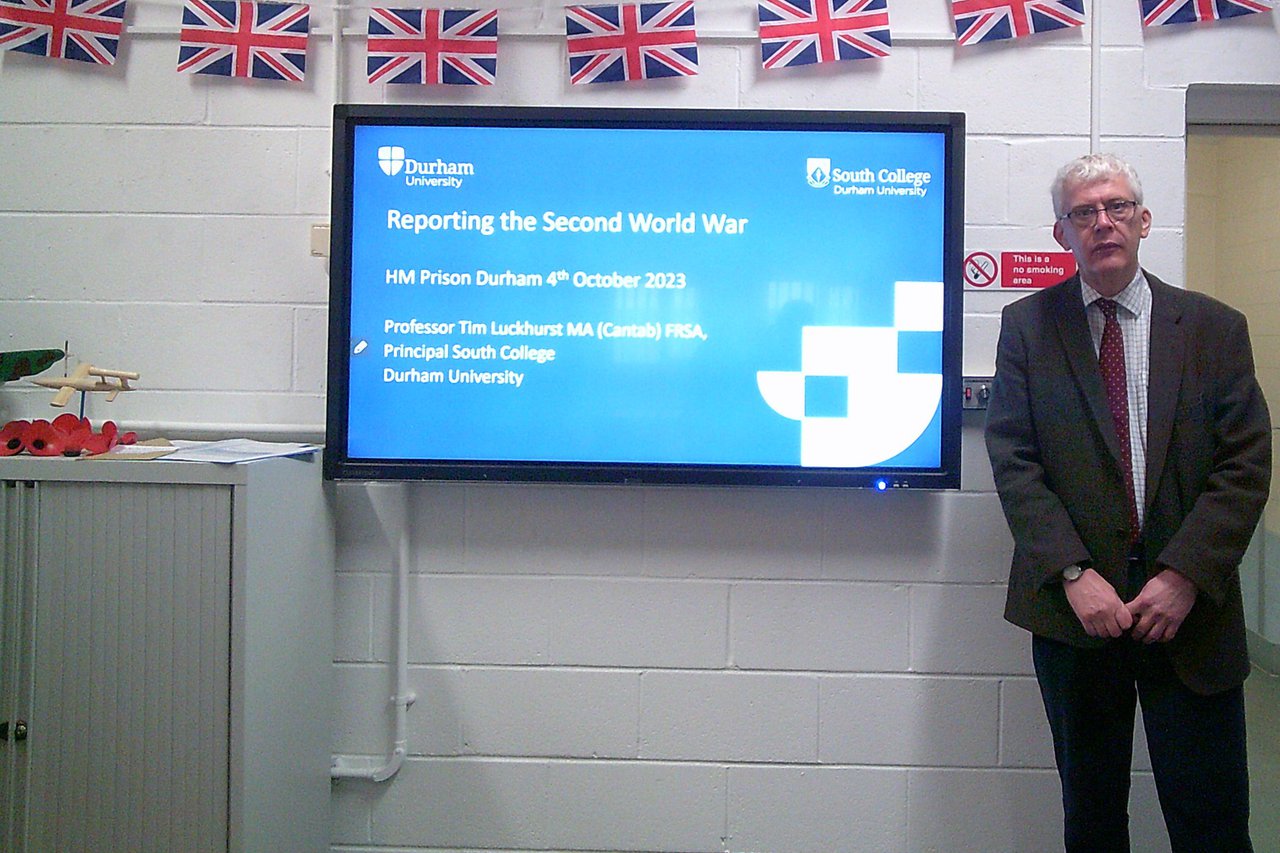 As it is Remembrance Day tomorrow, we wanted to shine a light on the work that we have been doing in the North-East with Professor Tim Luckhurst, from Durham University. 
Having a visiting Historian come to prison sites is an enriching learning experience by providing expertise, engagement, and real-world context. It fosters a deeper understanding of history, encourages critical thinking, and can inspire our learners to explore history further, both as a subject of study and as a source of potential enrichment. 
Tim Luckhurst is a Historian, who can lecture on a variety of topics lined to WW2. Each establishment has been liaising with Tim, around the work he is doing at each site, to ensure the chosen lectures meet the interests of the learners.
HMP Kirklevington Grange
13 learners attended Tim's lecture at HMP Kirklevington Grange. The lecture focused a lot on the reporting of the war with some very insightful facts, & data that supported & drove home the importance of the factual, written word to those left back at home during the war and their hunger for accurate & detailed information.  He spoke about the success of Churchill as Prime minister as a war time leader and his subsequent demise when losing the election shortly after the war.   
There was full engagement from learners who asked a number of relevant questions and copies of the books Tim referenced in his lecture were purchased and are being read by learners who attended the lecture. The library also worked with us to erect a WW2 book display in the library for learners. 
The event was so successful that HMP Kirklevington are looking to do another session with Tim.
HMP Durham
Ahead of Tim's visit to HMP Durham, learners across all curriculum areas took part in a number of activities to prepare for the lecture:
The Multi Skills class took part in a reading and writing project focusing around WW2 and they also expanded their joinery skills by creating model planes replicating the ones from the War. 
Creative Enterprise created poppies from recycled bottles that are being displayed as part of the memorial area at HMP Durham in time for Remembrance Day. 
Learners in Horticulture did a reading and writing task and held discussions around the impact of war on produce food and farming and digital skills did some presentations focusing on WW2. 
Learners thoroughly enjoyed participating in the activities and Tim's lecture and spoke positively about the experience:
Can we have another lecture event like this again, this feels like the level I want to be learning at, I found it so interesting.

I never read but this project has made me start to think about reading more, especially around history.
Projects like this enable learners to work as a team, communicate, widen their skills and education and potentially find a new hobby/interest. Take a look at our news section to keep up to date with our latest projects and events.